Sound System Information
Sound Setup and Mixing Workshop
The Hog owns a complete sound system for amplifying acoustic instruments and voices to carry properly from the Coffeehouse stage. Here are some references for our Sound Operators.
Our very own Sound Operations Manual:
Review and print your own copy of the manual, including setup tips and detailed connection drawings that show what equipment connects to what equipment.
Our equipment:
The Microphone Mixer:

The Hog currently owns a Mackie CFX12 mixer with twelve inputs for microphone level or line level sources and four more line inputs. MORE INFO

Graphic Equalizer:

The Hog currently owns a Behringer Ultragraph Pro with 31 bands, 1/3 octave two channel (stereo) equalizer. MORE INFO

The Power Amplifier:

The Hog currently owns a QSC Audio GX5 two channel amplifier with 500 Watts per channel. MORE INFO

Microphones:

Our workhorse microphones are the Shure SM series, the 57, 57A and 58. We do have several microphone models collected over the years and a few direct boxes and baluns (transformers) for plugging electrified instruments directly into the snake to the mixer.

Audio Snake:

At the Coffeehouse, we have a "Perma Snake" installed under the floor between the stage and back of the room. Use this to connect the Mixer and the stage equipment (microphones, amp, etc.). The boxes, one on stage and one at the mixer location, was replaced in December 2015 with new commercially made boxes with new gold plated XLR connectors. Jamie led the project, with Tom, Ron and Kim helping with the resoldering of the snake channels to the new connectors.

On occaision we have a dance or concert to support outside of the Wil-Mar Center, for these events we have a 100 foot long 12+3 channel snake. This snake is mounted on a garden hose reel for easy transportation, setup and takedown. It is stored in the sound closet.

Stage Lights:

Our home made lighting solution has served us well for decades. Over the summer of 2016, we replaced our wobbly stage lights with donated, but used, 56 PAR stage cans. They currently have 300 watt lamps but we plan to replace them with 500 watt. Wil-Mar's electrician installed a 4-gang electrical box on the wall next to the mixer position. It has four dimmers. Three are for stage left, center and right. The 4th dimmer for the audience fill light. We will be labeling these but for now you can figure it out.

Spare lamps are kept on the top shelf of the sound closet. The ladder is kept in a closet (pantry) in the kitchen. When chaning lamps, be ace ful to not change the aim of the stage lights and install lamp so that the horizontal beam is indeed horizontal as viewed from the stage.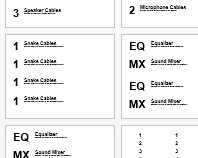 Sound System Maintenance:
Print out new lables for cables, equipment and storage boxes (as shown in the thumbnail image at right).
Print out new sign listing who to call for help if you have a question (sign is posted in the Sound Storage Closet).
How to solder connectors, Basic soldering is a skill that's easy to learn and not too hard to master. It just takes practice.

Rent the Sound System

The sound system can be loaned from time to time to other folk groups for special events, concerts and dances. The rental is free, but requires a Wild Hog member trained with the equipment to be available and supervise the move, setup, use and take down. The Hog's sound operator should be provided free admission and refreshment during the event. Also, you need to provide at least two people to help transport and setup the equipment and at least one minivan or van. The same is true for take down and transport back to the Wil-Mar Center. Any other costs incurred by the Operator, such as parking, should also be provided. In addition, we suggest you tip the Operator.

Sound Mixing Techniques and Tutorials

From time to time we host workshops for those wanting to learn how to mix sound for the Hog. Please watch the newsletter or our events calendar (see "What When Where" above). Meanwhile, here are some tutorials and other helpful links.

Mixing Sound for Folk Music and Folk Dancing:

All Mixed Up, A Guide to Sound Production for Folk and Dance Music by Bob Mills. (4th Edition, January 2008) A hard copy is in the Sound Manual binder in the sound closet.

Professional Sound Guides:

Cable wiring configurations:

Examples of connectors we use, the XLR, 1/4" and the RCA.
Balanced Audio adapter, 3 pin XLR to 1/4" Tip Ring Sleeve (TRS) Connector. Used in two places:

At the mixer, Aux Send Out goes to Snake Channel B to feed the stage monitors using a 3 foot purple adapter cable.
On the stage at the power amp, two 6 foot purple cable/adapters are used to:

feed Snake Channel A to the A input of the power amp for the main speakers.
feed Snake Channel B to the B input of the power amp for the stage speakers.

Guitar Direct Adapter, 1/4 Tip/Sleeve (mono) Connector to a 3 pin XLR connector for adapting a musical instrument output to a Direct Transformer. SOme transformers are XLR on their input side, use this adapter to connect to the instrument.

Home Page | Wild Hog Events | Other Folk Events | About the Hog | Members | Signup for Announcements

This page was updated March 4, 2018 6:03 PM

© All Rights Reserved, Wild Hog in the Woods, Inc.
www.WildHogInTheWoods.org