Since 1978, our folk music concerts have been a Madison tradition. Founded as a non-profit cooperative by musicians - when there were no venues at which they could perform - the Coffeehouse has provided a stage where a diverse array of music could be performed in a listening room environment.
From Appalachian, Americana, Celtic, Old Time and more - many musicians have performed at the "Hog". Several played in front of their first audience at the Hog, and some try out new songs for the first time at the Hog.
When are the concerts? Concerts are held September through May on Fridays, usually starting at 7:30pm. Door opens at 7:00pm. Check our calendar for concert details.
Where is the Coffeehouse? On Madison's near East Side, we are located just one block south of Willy (Williamson) Street on Brearly at the corner of Jenifer Street. The coffeehouse is in the Wil-Mar Neighborhood Center. The address is 504 S. Brearly. Maps and directions
Transportation: The Wil-Mar parking lot is available across Brearly street and we have easy access to bike paths. Metro bus stop for Routes 3 and 4 is across the street on Jenifer Street. Wil-Mar is accessible from the Brearly Street entrance and there is a lift available between floors.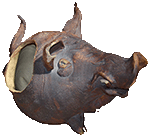 Admission Cost: Admission pays the rent. Performers are paid from the money the audience puts in our ceramic wild boar piggy bank, affectionately called Phillup the Pig (pronounced fill-up). Admission is typically $2 for members and $4 for non-members (higher for special events). The Saturday Hootenannies are free, but donations to Phillup help pay our rent that day.
While closed during the pandemic, we are offering free attendance to our virtual concerts. However we ask that you donate to Philup the Pig using our PayPal DONATE button found in the virtual concert pages. Please donate generously as we are splitting the tips between the performer and the Wil-Mar Center.
Do we have food and beverages? During normal times when we can be open, we serve baked goodies that change from Friday to Friday, juices, large selection of teas, Klarbrun flavored waters, and Steep & Brew's Wild Hog Blend decaffeinated coffee. Coffee with caffeine is available in tea-like bags.
Who are we, the people? We are members of an all volunteer run, non-profit organization based on cooperative principles. We are dedicated to promoting, preserving, and enjoying all types of traditional folk and acoustic music, by providing weekly live performances in our coffeehouse, and occasional special concerts, dances and other events and partnering with other local folk organizations when appropriate. Become a Member
Weather-related updates: Visit our Facebook page.
Musicians: The scheduled folk musicians, singer/songwriters and storytellers are the finest in the area, the state and the nation, featuring many local performers along with regional and national acts that are traveling in the area. The open mike is a mix of local/traveling, amateur/pro, folk artists/songwriters and are always a surprise. Sign up at the door when you arrive if you would like to perform a couple of songs during the open mike between sets.
To inquire about performing at the Coffeehouse, contact our scheduler.


Amazon Smile: Did you know that Amazon will donate to a non-profit organization every time you make a purchase using Amazon Smile. Next time you visit Amazon to make a purchase, first go to smile.amazon.com and login as usual. Search for Wild Hog in the Woods and select it as your preferred charity. Continue shopping, always logging into smile.amazon.com and Amazon will donate a portion of eligible purchases to the Coffeehouse.
The Building: Concerts are held in the idyllic setting of the Wil-Mar Community Center with high ceilings, Hickory hardwood floor, stage, and energy efficient LED lighting. Located on Madison's near east side, just one block off of Willy (Williamson) Street at the corner of Jenifer and Brearly.
The listening room we rent on Friday evenings at the Wil-Mar Neighborhood Center was recently remodeled and is a great space, both acoustically and ergonomically, to host our concerts, as well as many other arts and cultural events by other organizations.
The Yahara Room:The smoke-free atmosphere is relaxed with dimmed lighting and candles on the tables. Teas, natural juices and locally ground coffee available. Fresh baked goods, such as cookies, muffins or whatever the volunteer bakers made this week are also available.
Circle Sings/Open Mics: Select Saturdays during our season we host Sing-Alongs and Open Mics, an afternoon of sharing and singing songs. Bring sheet music or Rise Up Singing songbooks for songs you want to share. If you play a string instrument, or one compatible with circle singing, bring it along. Check our calendar for dates and times.
What is Wild Hog in the Woods, Inc.? Wild Hog in the Woods, Inc. is a non-profit, tax-exempt 501(c)3 educational and historical corporation organized to advance the public knowledge of folk arts and dedicated to providing a stage where anyone, from first time on stage to seasoned performers, can perform for folk music-loving audiences.
More Info: Explore our web site or email us at info@wildhoginthewoods.org