Welcome to
Phillup the Pig's Virtual Concerts
Due to COVID-19, the Coffeehouse's physical space at the Wil-Mar Neighborhood Center continues to be closed in support of social distancing. We are bringing you a live or prerecorded concert each Friday during this new way of life as we continue to support folk music in our community.
Concert Announcements: Sign up to receive email announcements about each week's concert. Or check our online calendar.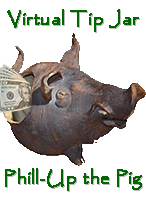 Look for Phillup the Pig on the concert's page and tip generously. The Hog is a volunteer operated non-profit cooperative. Musicians also volunteer their talents. At the physical Coffeehouse, we have Phillup the Pig, a "pass the hat" ceramic piggy bank for collecting donations that go to the musicians.
For our online virtual concerts, a donate button appears on each concert's page. Use it to donate via credit or debit card. The donations will be divided between the performer and the Wil-Mar Neigborhood Center.
Both performers and the Center have seen reduced income during the pandemic. Both need your support, so please give generoulsy. The Hog and Wil-Mar each are 501(c)3 charitable organizations.
View past virtual concerts: click or touch here
Next Concert:
Thanksgiving Weekend: Hog's Birthday Party (virtual, of course) replay of our 40th anniversary concert from 2018, plus Friday social chat using Zoom, and Saturday Open Mic also using Zoom.
Upcoming Concert Schedule:
November 27: Zoom Chat Birthday Party with folkie friends as we celebrate 42 years of the Coffeehouse.
December 4: Leafy Greens
December 11: Kelly Bleich
December 18: Holiday Special
January 2021 schedule is coming soon.
Listen to the WORT interview about the Coffeehouse:
September 8: Host of Tuesday morning's Green World show, Brian Hirst, (WORT 89.9 and wortfm.org) interviewed one of our volunteers, Jamie Poindexter, about our streaming of concerts during the Covid pandemic in support of folk musicians, singer and songwriters.

Playback Recent (2020) Virtual Concerts:
Want to become a member of the Wild Hog in the Woods Coffeehouse?

Home Page | Virtual Concerts | Wild Hog Calendar of Events | About the Hog | Members | Signup for Announcements
This page was updated November 27, 2020 1:26 PM
© All Rights Reserved, Wild Hog in the Woods, Inc.
www.WildHogInTheWoods.org