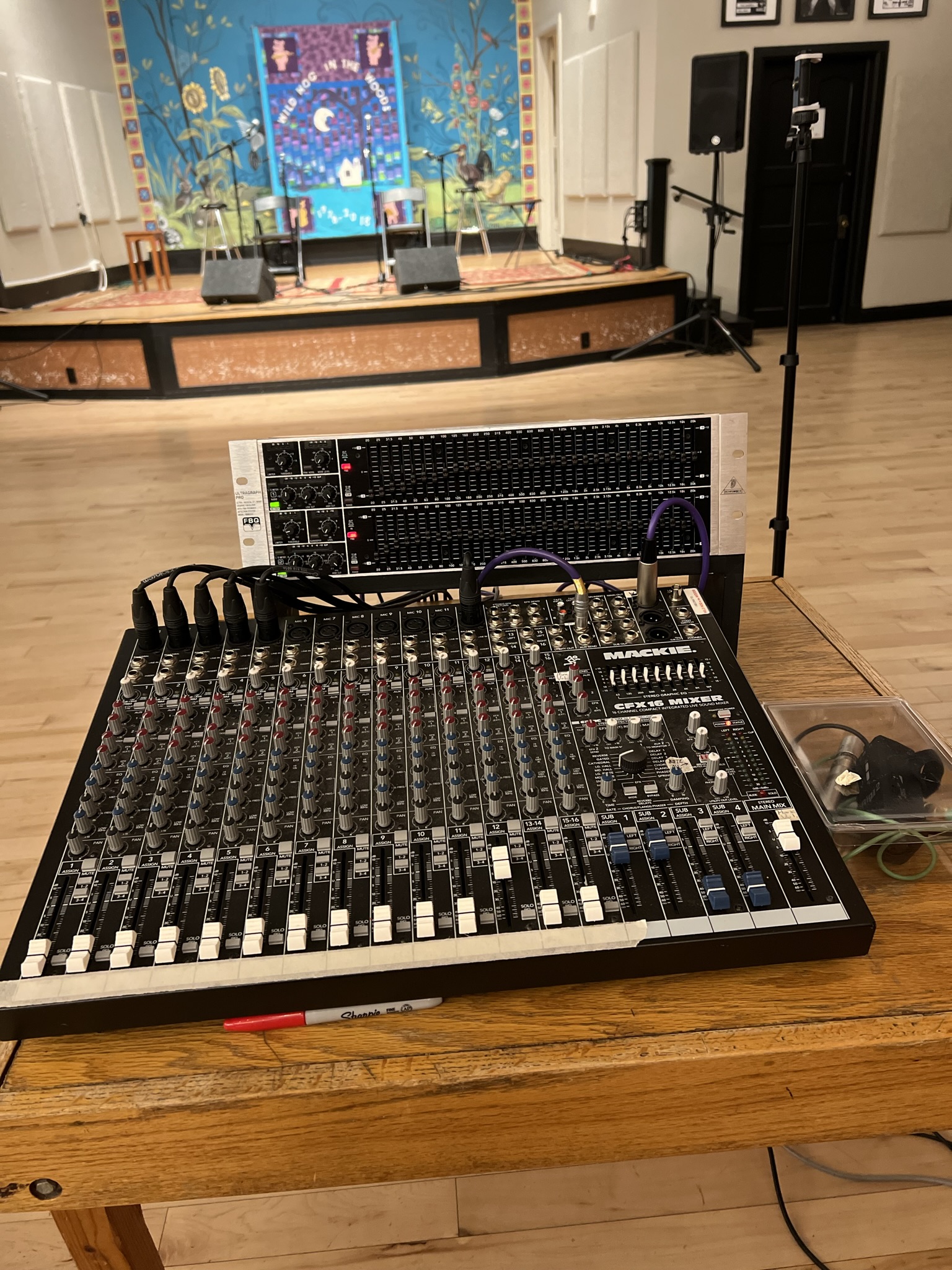 The Microphone Mixer:
The Hog currently owns a Mackie CFX12 analog mixer with twelve inputs for microphone level or line level sources and four more line inputs. MORE INFO
Graphic Equalizer:
The Hog currently owns a Behringer Ultragraph Pro with 31 bands, 1/3 octave two channel (stereo) equalizer. MORE INFO
The Power Amplifier:
The Hog currently owns a QSC Audio GX5 two channel amplifier with 500 Watts per channel. MORE INFO
Microphones:
Our workhorse microphones are the Shure SM series, the 57 and 57A instrument mics, and 58 vocal mics. We do some other microphone models collected over the years and a few direct boxes and baluns (transformers) for plugging electrified instruments directly into the snake to the mixer.
AV-1 Direct Boxes:
Use these to match the 1/4 inch cable from the microphone output built into the instrument to our 3-pin XLR connections to the snake/mixer. Specifications Sheet

Pro Co's AV-1 Audio/Video Interface allows for clean, worry free transfers of line or speaker-level audio from movie projectors, audio and video tape cassette recorders, phonographs and more. These sources can then be connected to the microphone inputs of house or portable PA systems for a variety of uses. Uniquely designed for stacking or side-by-side strapping together, the rugged and durable AV-1 offers all necessary connections and controls to make a quick transfer from low to high-quality sound. Company Web Site

Better Sound from Projectors, Phonographs and Recorders
Output Transformer for Ground Isolation
Offers Choice of Standard Connectors with no Adapters Needed
Handles Signal Levels from -20 to +40dBv
16W Dummy Load Prevents Amplifier Damage
Rugged "Uni-Box" Steel Construction Provides Protection and Shielding
Audio Snake:
At the Coffeehouse, we have a "Perma Snake" installed under the floor between the stage and back of the room. Use this to connect the Mixer and the stage equipment (microphones, amp, etc.). The boxes, one on stage and one at the mixer location, was replaced in December 2015 with new commercially made boxes with new gold plated XLR connectors. Jamie led the project, with Tom, Ron and Kim helping with the resoldering of the snake channels to the new connectors.

On occaision we have a dance or concert to support outside of the Wil-Mar Center, for these events we have a 100 foot long 12+3 channel snake. This snake is mounted on a garden hose reel for easy transportation, setup and takedown. It is stored in the sound closet.
Monitors:
Our passive speakers facing the audience are 12 inch two-way Yamaha CBR12, 8 ohm, 350 watt, 700 watt maximum. Product Web Site

Our talent facing stage monitors are 10 inch Optimus model 40-0110, 75 watts RMS, 150 watts maximum.
Stage Lights:
In 2019, the Wil-Mar Center underwent a remodel. The Coffeehouse had a lot of input into the lighting requirements. As a result, the room is lit by all LED lights. Many have dimmers. This includes some wonderful lights for the stage that are color balanced to 2700 Kelvin (equivilent to an incandescent bulb).
Sound System Maintenance:
Print out new lables for cables, equipment and storage boxes (as shown in the thumbnail image at right).

Print out new sign listing who to call for help if you have a question (sign is posted in the Sound Storage Closet).

How to solder connectors, Basic soldering is a skill that's easy to learn and not too hard to master. It just takes practice.
Rent the Sound System
The sound system can be loaned from time to time to other folk groups for special events, concerts and dances. The rental is free, but requires a Wild Hog member trained with the equipment to be available and supervise the move, setup, use and take down. The Hog's sound operator should be provided free admission and refreshment during the event. Also, you need to provide at least two people to help transport and setup the equipment and at least one minivan or van. The same is true for take down and transport back to the Wil-Mar Center. Any other costs incurred by the Operator, such as parking, should also be provided. In addition, we suggest you tip the Operator.
Sound Mixing Techniques and Tutorials
From time to time we host workshops for those wanting to learn how to mix sound for the Hog. Please watch the newsletter or our events calendar (see "What When Where" above). Meanwhile, here are some tutorials and other helpful links.
Mixing Sound for Folk Music and Folk Dancing:
All Mixed Up, A Guide to Sound Production for Folk and Dance Music by Bob Mills. (4th Edition, January 2008) A hard copy is in the Sound Manual binder in the sound closet.
Professional Sound Guides:
Cable wiring configurations:
Examples of connectors we use, the XLR, 1/4" and the RCA.
Balanced Audio adapter, 3 pin XLR to 1/4" Tip Ring Sleeve (TRS) Connector. Used in two places:
Guitar Direct Adapter, 1/4 Tip/Sleeve (mono) Connector to a 3 pin XLR connector for adapting a musical instrument output to a Direct Transformer. Some transformers are XLR on their input side, use this adapter to connect to the instrument.